The Restoration Revolution: Marketing Tips to Transform Your Contracting Business
May 11, 2023 •Ember Davis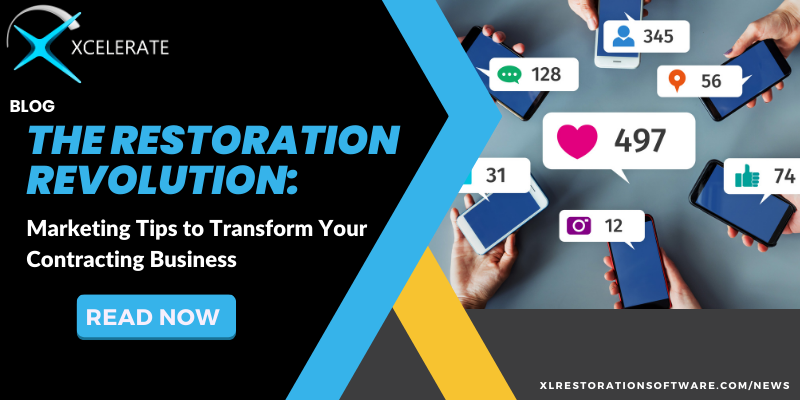 Marketing is a critical component of any business, and restoration contractors are no exception. While word-of-mouth referrals can bring in some business, having a solid marketing strategy can help you reach a wider audience and establish your business as a trusted leader in the restoration industry. Here are some marketing tips specifically tailored to restoration contractors:
Establish a strong online presence: Establishing a strong online presence is one of the most effective marketing strategies for restoration contractors in today's digital age. A professional and informative website that is easy to navigate is essential to showcase your services and highlight your expertise. Make sure to optimize your website for search engines to increase visibility and drive traffic to your site. In addition to your website, social media platforms such as Facebook, Twitter, and LinkedIn can help you engage with potential customers and showcase your services. Share valuable content related to the restoration industry, such as tips for disaster preparation, before and after project photos, and testimonials from satisfied clients. Regularly updating your website and social media platforms with fresh and relevant content can help you build credibility and attract new business.

Invest in search engine optimization (SEO): Investing in search engine optimization (SEO) can be a game-changer for restoration contractors looking to increase their online visibility and attract more potential customers. By optimizing your website and online content with relevant keywords, meta descriptions, and other on-page factors, you can improve your search engine rankings and appear higher in search engine results pages (SERPs). This can lead to increased traffic to your website, more leads, and ultimately more business. Additionally, investing in local SEO can help you target customers in your area, as many people search for restoration services near them. A strong SEO strategy can also help you stay ahead of your competitors and establish your business as a trusted authority in the restoration industry.

Leverage email marketing: Email marketing is a powerful tool for restoration contractors to maintain consistent communication with their customers and prospects. By regularly sending out newsletters or promotional emails, you can keep your audience up to date with industry news, offer helpful tips and resources, and showcase your services. Be sure to personalize your emails by addressing your recipients by name and tailoring your content to their specific interests and needs.

To build an effective email list, consider offering incentives like exclusive promotions or free resources in exchange for signing up. Make sure to also include a clear call-to-action in your emails to encourage recipients to take action, such as booking a consultation or contacting your team for more information.

When creating your email content, aim to strike a balance between informative and promotional. While it's important to showcase your services and promotions, be sure to also provide valuable content that your audience will find useful, such as industry insights or tips for preventing common types of damage.

Finally, be sure to measure the success of your email campaigns by tracking metrics like open rates and click-through rates. This will help you identify areas for improvement and make adjustments to your email strategy over time.

Attend industry events: Attending industry events such as the Restoration Industry Association's (RIA) annual convention and expo can provide a wealth of opportunities for restoration contractors. These events bring together industry leaders, experts, and vendors under one roof, offering ample networking opportunities and access to the latest industry trends and technologies. By attending such events, restoration contractors can gain valuable insights into the industry, expand their knowledge, and learn new strategies to grow their businesses. Additionally, these events often include educational sessions and workshops that can help contractors stay up-to-date with the latest techniques and best practices in the industry. Overall, attending industry events is an excellent way to increase your visibility and credibility in the restoration industry, which can lead to more business opportunities and increased revenue. Check out the fun we had at RIA 2023!

Utilize customer reviews and testimonials: Utilizing customer reviews and testimonials can be an effective way to establish credibility and build trust with potential customers. Before choosing a restoration contractor, many people will read reviews and testimonials from previous customers to ensure they are making the right choice.

To encourage customers to leave reviews, consider sending a follow-up email after completing a project, asking them to leave feedback on platforms like Google, Yelp, or Facebook. Responding to both positive and negative reviews can also show that you value customer feedback and are committed to providing excellent service.

In addition to online reviews, featuring testimonials on your website and social media pages can provide potential customers with valuable insights into the quality of your services. Consider reaching out to previous customers and asking if they would be willing to share their experience working with your company. Including photos and specific details about the project can make testimonials even more powerful.

Overall, utilizing customer reviews and testimonials can be an effective way to boost your restoration business's credibility and attract new customers.
By implementing these marketing tips, restoration contractors can attract new customers, establish their business as a trusted industry leader, and ultimately grow their business.
Join the Restoration Revolution
for Exclusive Industry Insights
!
Join our mailing list and stay in the loop with the hottest integrations, informative blog posts, and business-boosting tips & resources. And don't worry, we won't bombard you with spammy emails - only the good stuff!

So what are you waiting for? Sign up now and let's grow your business together!