Xcelerate Chosen as Preferred Job Management by Lightspeed Restoration
August 21, 2023 •Ember Davis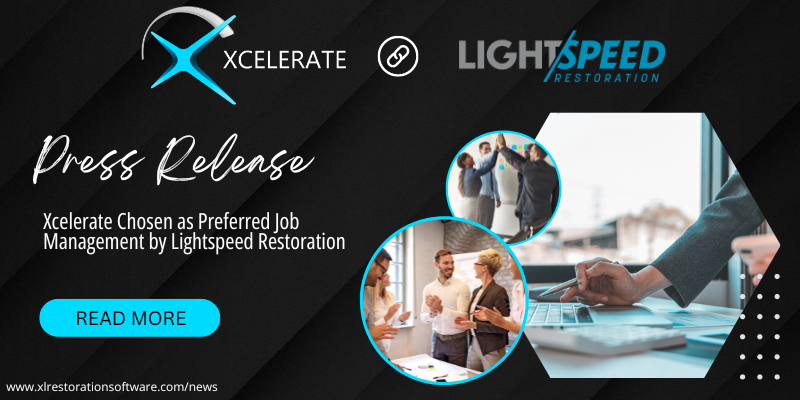 FOR IMMEDIATE RELEASE
Xcelerate Restoration Software Chosen as Preferred Job Management Provider for Lightspeed Restoration
[Mesa, AZ, August 16th, 2023] - Xcelerate Restoration Software, a leading provider of job management solutions designed to streamline business processes for the restoration industry, is excited to announce its strategic partnership with Lightspeed Restoration, an innovative player in the restoration sector. This collaboration marks Xcelerate's selection as the preferred job management provider for Lightspeed Restoration.
With a shared commitment to advancing operational efficiency, enhancing customer experiences, and fostering growth within the restoration industry, the partnership between Xcelerate Restoration Software and Lightspeed Restoration will allow Lightspeed to offer advanced technology to their franchise owners.


Drawing upon a fresh and dedicated approach, Lightspeed Restoration is committed to delivering top-notch restoration services. This commitment has led Lightspeed Restoration to strategically select Xcelerate Restoration Software as its preferred job management solution. This choice is a testament to Xcelerate's reputation for providing seamless integration, robust functionalities, and an intuitive user interface. By incorporating Xcelerate's software suite, Lightspeed Restoration seeks to enhance its project management capabilities, streamline workflow processes, and elevate the quality of service provided to its valued clients.
"At Lightspeed Restoration, we are focused on delivering best-in-class restoration services, and having the right technology in place is essential. We are very excited to partner with Xcelerate. This collaboration represents our commitment to investing in solutions that allow us to serve our customers at the highest level and to provide our franchises with the very best technology and tools for success. We look forward to our continued partnership with Xcelerate as we redefine the limits of excellence in restoration."


"We are truly honored to be selected as the preferred job management provider for Lightspeed Restoration," stated Rachel Stewart, CEO of Xcelerate Restoration Software. "This partnership signifies the convergence of our shared values and aspirations to empower restoration contractors with innovative tools. Through this collaboration, we are dedicated to supporting Lightspeed Restoration in their pursuit of operational excellence and sustainable growth."
The joint endeavor exemplifies Xcelerate Restoration Software's ongoing commitment to equipping restoration contractors with cutting-edge solutions that address industry challenges and promote exceptional outcomes. By uniting their strengths, Xcelerate and Lightspeed Restoration are poised to contribute significantly to the growth and transformation of the restoration industry.
About Xcelerate Restoration Software:
Xcelerate Restoration Software is a leading job management platform designed specifically for the restoration industry. With a focus on growth and innovation, Xcelerate empowers restoration contractors to increase operational efficiency, improve profitability, and elevate both job and team management. Built from an in-the-field perspective, Xcelerate delivers a simple, yet comprehensive solution that benefits all employees within a restoration organization, streamlining workflows and reducing manual processes. The platform features advanced automation tools, real-time data insights, and seamless integrations with leading third-party tools, enabling restoration contractors to focus on growing their business and delivering exceptional service to their clients. With Xcelerate, restoration contractors can restore their power to succeed and achieve their growth goals. Visit www.xlrestorationsoftware.com for more information.
About Lightspeed Restoration:
Rapid response is key to a rapid recovery, and Lightspeed Restoration specializes in immediate, reliable action to get residential and commercial customers back to normal quickly after disaster strikes. Standing water, mold, debris, structural damage and indoor air quality concerns are no match for Lightspeed's experienced team, who partner effectively with homeowners, insurance carriers, and commercial properties to streamline and expedite the restoration process for their customers. Lightspeed Restoration franchises are currently located in Lexington, Kentucky; Mobile, Alabama; and Covington, Louisiana, but is expanding rapidly with many more locations opening in the coming months. Franchise territories are available across the country. For more information about Lightspeed Restoration and its services, visit https://lightspeedrestoration.com/ or call 800.620.4009.
Contact:
Email: Press@xlrestorationsoftware.com
Website: www.xlrestorationsoftware.com