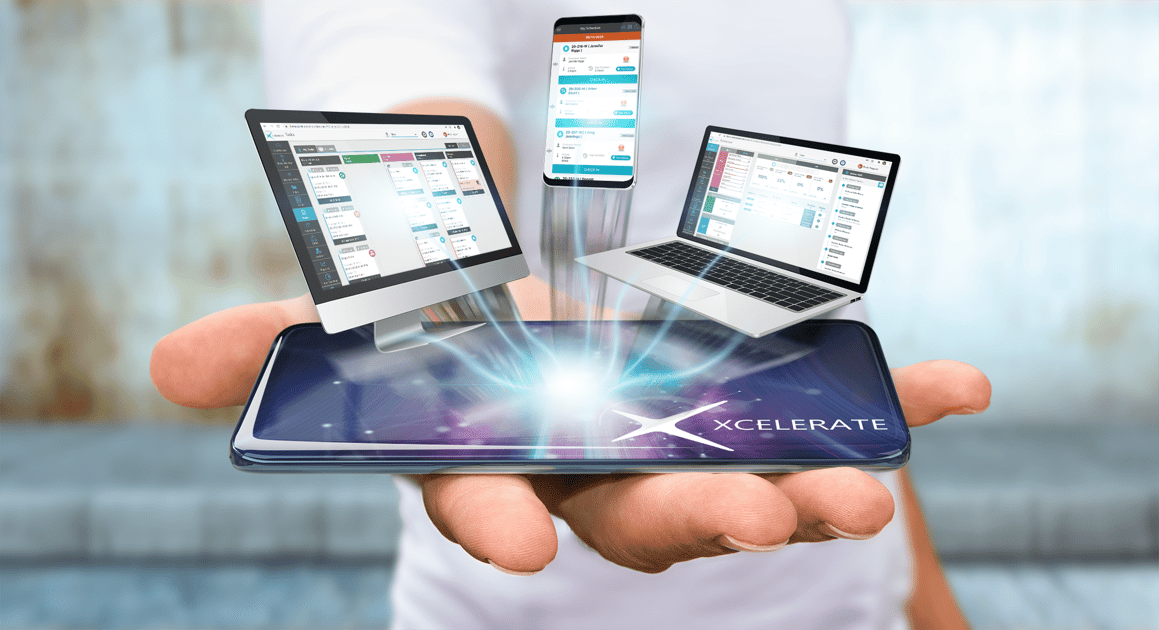 Over the past decade, the restoration industry has seen a tremendously positive transformation away from paper-driven processes through the adoption of restoration management software. These changes have brought with them an immense number of benefits to contractor workflows.
Restoration management software solutions, such as Xcelerate, help contractors to take full advantage of paperless workflows. Some of the immediate benefits of these digital processes that eliminate paper from your workflows include the following:
1. Easily Accessible Job Information
One of the biggest benefits of a digital process is managing all aspects of your job workflows and data within a single platform. Xcelerate Software makes it easy to view lists of all current (and past) job records, along with comprehensive customer contact info, insurance details, insurance agent and adjuster details, documented job notes, photos from the job site, and much more – all captured within a single digital record.
We are making it easy to kick the filing cabinets overstuffed with folder and paper documentation – it's time to consider anytime, anywhere access to all your job details from the convenience of a mobile device or tablet.
2. Custom Digital Forms
An obvious ways to go paperless is through the use of digital forms – work authorizations, emergency services, job checklists, certificate of completion, or any other forms that your business uses on a regular basis can be recreated digitally for added benefit. Xcelerate Software provides a robust form builder that allows you to build and customize your forms in ways that are sure to fit any of your current form needs.

Today, it would take far too long for a field technician to locate a paper form, gather a signature from the client in person, scan the signed form to a computer back in the office and save to a local job file; alternatively, the tech could open a digital form on their mobile device and capture a signature in a matter of seconds, which would then be automatically saved to cloud document storage for all users to review immediately – it amounts to huge time savings and accessibility benefits.
3. Scheduling Crews
Another major benefit to a digital process is the planning and availability of scheduling crews on jobs. While living by a wall calendar in the office can be a visual concept, it's ultimately restricting and requires employees to be onsite to review their schedule.
Xcelerate makes it easy for management teams to schedule crews on a job at any time; users can easily view their current daily schedule from their mobile device wherever they may be – in the office, at home or on the job site. The convenience of a digital scheduling workflow outweighs the limited benefits of a wall calendar every time.
4. Long-Term Accessibility and Security
Restoration management software solutions, such as Xcelerate, support long-term accessibility to all your job files, document, photos and more – a full history of all your work over a long period of time, all through digital cloud access. It's also important to consider the security benefits of such a solution.
Through the use of Xcelerate, sensitive files are stored away from prying eyes or theft through advanced data security protocols. Data is also securely stored with redundant backups that offer protection from loss should a disaster occur within a data warehouse. With regular backups, your data may be restored quickly and fully, giving you peace of mind and assurance that your data continues to be available to you whenever you need it. And by trusting secure storage through such a system, your data is protected from disasters on a local level; heaven forbid your office suffer from a fire or flood, through Xcelerate your critical job data will remain protected and unaffected in such a situation.
The time to experience a digital transformation has never been better, and Xcelerate Software makes it easy to recongnize the power of going truly paperless.
Ready to learn more? Contact Xcelerate Software to see how your team can immediately benefit from a comprehensive, yet simple restoration management software solution.