Introducing the perfect combination of job management and visual documentation.
With Xcelerate, you can manage all aspects of your restoration business in one, easy-to-use system. But we didn't stop there - we've taken it a step further and integrated with CompanyCam, the industry-leading photo documentation tool.
With this powerful integration, you can streamline your photo documentation process and keep visual records organized in one place. The Xcelerate Restoration Software and CompanyCam integration helps you save time, reduce errors, and provide accurate documentation to your clients. No more juggling multiple systems, no more data entry duplication, and no more delays.
Upgrade your restoration business with the seamless integration of Xcelerate and CompanyCam, the ultimate all-in-one system that simplifies your workflow and delivers professional results. Browse our extensive list of integrations now and take your business to the next level.
Boost Efficiency and Take Control
of Your Documentation Process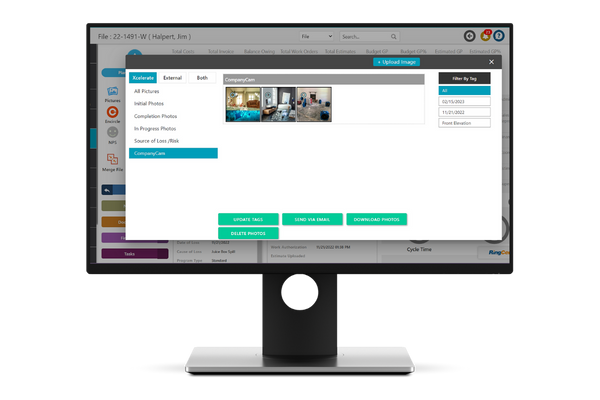 Xcelerate and CompanyCam integration makes photo documentation for your restoration projects a breeze. By capturing photos in CompanyCam, they are automatically synced to Xcelerate, making it easy to manage photos, track progress, and share with your team.
The integration simplifies your workflow and improves the accuracy and completeness of your documentation, all while boosting your team's efficiency. With CompanyCam, you can take high-quality photos, annotate, and tag photos to organize and find them easily in the future.
The integration makes it easy to stay on top of your restoration projects, ensure that they stay on track, and keep everyone involved on the same page. Say goodbye to the hassle of manual photo documentation and embrace the power of the Xcelerate and CompanyCam integration today.
Not a CompanyCam customer yet?

Join our mailing list and stay in the loop with the hottest integrations, informative blog posts, and business-boosting tips & resources. And don't worry, we won't bombard you with spammy emails - only the good stuff! So what are you waiting for? Sign up now and let's grow your business together!
Join the Restoration Revolution
for Exclusive Industry Insights
!